The Lord of the Rings: The Fellowship of the Ring (Widescreen Edition)
The Lord of the Rings: The Fellowship of the Ring (Widescreen Edition)
SKU:
UD-NEW LINE HOME VIDEO-794043554223
Availability:
Usually ships within two business days
Shipping:
Calculated at checkout
---
Product Description
The Lord of the Rings: The Fellowship of the Ring is a 2001 fantasy film directed by Peter Jackson based on the first volume of J. R. R. Tolkien's The Lord of the Rings (1954–1955). Set in Middle-earth, the story tells of the Dark Lord Sauron, who is seeking the One Ring. The Ring has found its way to the young hobbit Frodo Baggins (Elijah Wood). The fate of Middle-earth hangs in the balance as Frodo and eight companions form the Fellowship of the Ring, and begin their journey to Mount Doom in the land of Mordor, the only place where the Ring can be destroyed.
Released on 10 December 2001, the film was highly acclaimed by critics and fans alike, especially as many of the latter judged it to be the most sufficiently faithful adaption of the original story out of Jackson's film trilogy. It was a major box office success, earning over $870 million worldwide, and the second highest-grossing film of 2001 in the U.S. and worldwide (behind Harry Potter and the Philosopher's Stone) which made it the 5th highest-grossing film ever at the time. Today it is the 20th highest-grossing worldwide film of all time. It won four Academy Awards and five BAFTAs, including Best Film and Best Director BAFTA awards. The Special Extended DVD Edition was released on 12 November 2002 and is now discontinued. In 2007, The Fellowship of the Ring was voted number 50 on the American Film Institute's list of 100 greatest American films. The AFI also voted it the second greatest fantasy film of all time during their AFI's 10 Top 10 special.
"REAL MAGIC! ONE OF THE BEST FILMS OF THE YEAR."- Joel Siegel, Good Morning America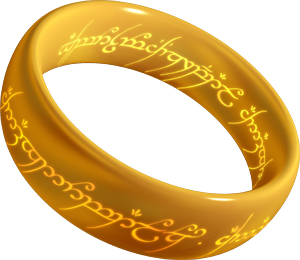 Source: Wikipedia® is a registered trademark of the Wikimedia Foundation, Inc.
Product Video
---
Warranty Information
Not Available.
---
Other Details
Actors:
Sean Astin, Orlando Bloom
Producers:
Peter Jackson, Barrie M. Osborne, Tim Sanders, Fran Walsh
Studio:
New Line Home video
Format:
Closed-captioned, Color, DVD, Widescreen, NTSC
Region:
Region 1, (U.S. and Canada only)
Aspect Ratio:
2.35:1 Cinemascope
Presentation:
Wide Screen
Sound:
Dolby Digital Surround, Dolby Digital Surround EX
Rated:
PG-13 (Parental Guidance Suggested)
Awards:
It won four Academy Awards and five BAFTAs, including Best Film and Best Director BAFTA awards.
Comments:
Like new original packaging.
---
Find Similar Products by Category
---
Customers Who Viewed This Product Also Viewed